SUBSCRIBE TO KUNG FU TAI CHI BY FRIDAY SEPTEMBER 22 and get the complete Grandmasters LIVE! show on TWO DVDS! Read Publisher Gene Ching's final thoughts on the Kung Fu Tai Chi 25th Anniversary Festival with KFTC25 AF Part 3
by gene
SUBSCRIBE TO KUNG FU TAI CHI BY FRIDAY SEPTEMBER 22 and get the complete Grandmasters LIVE! show on TWO DVDS!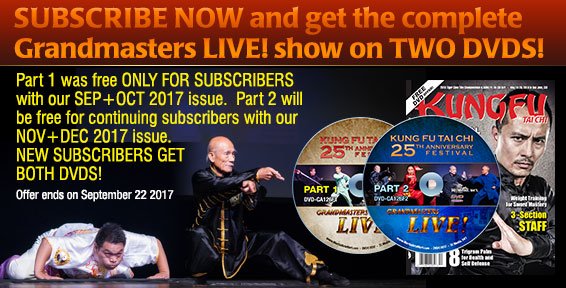 Part 1 was free ONLY FOR SUBSCRIBERS with our SEP+OCT 2017 issue. Part 2 will be free for continuing subscribers with our NOV+DEC 2017 issue. NEW SUBSCRIBERS GET BOTH DVDS! Offer ends on September 22 2017.
Read Publisher Gene Ching's final thoughts on the Kung Fu Tai Chi 25th Anniversary Festival with 2017 KFTC25 AF Part 3: The Show, the Tournament and the Banquet (if you're behind on your reading, you'll find 2017 KFTC25 AF (Part 1) here and 2017 KFTC25 AF Part 2: Grandmasters LIVE! here).
Last 5 posts by gene